Jerry Lee Lewis - I Should Live So Long?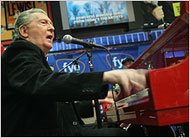 Hi All!
I mucked about with a Medusa of cables last night and finally got my new cable downgrade to work properly with the basement TV.
Started at 9. By 11:30 I had a picture, and it was the Letterman show with Jerry Lee Lewis doing one of his hits (sorry, can't remember which...more on that later) with Neil Young.
It was hard to tell who was older -- Young had has big hat so far over his face that it was hard to compare but the neck told a tale of age. The Killer looked worse than Johnny Cash in Rollling Stone a few weeks before he assumed room temperature.
He looked and played like a zombie, needing to crane his neck to read a teleprompter to read his own simple lyrics.
Why I can't remember the song is that it was performed so sonombulently that I dozed off.
The old druggy, alcoholic pedophile will make a ton of dough for his heirs (or creditors) with his new all-star CD (what is it with this mini-spate of fossils doing duets with soon-to-be- fossils, ala Tony Bennett
One could argue that Little Richard still rocks. But the Killer is a freak show. He could barely play the piano with his shaky hands, let alone with his bare feet!
I am being too harsh. After all, the guy is only about 71 and I'll be lucky to see Christmas -- and he moves better.
Cheers!